Table builder og NL("Table")
Jet Reports Table Builder (tabel bygger) hjælper dig med at indsætte en NL("Table") funktion i dit Excelark
NL("Table") laver en Excel tabel (fra 1 eller flere tabeller i din database) som kan bruges videre i en pivottabel eller pivotgraf.
For detaljeret information omkring Table builder funktioner, så se disse videoer fra Jet Global
Table Builder Introduktion
Vælg flere tabeller (part 1)
Vælg flere tabeller (part 2)
Brug af The Table Builder
Table builder giver dig et interface, der gør det lettere at lave en NL("Table") funktion.
Man kan let hente felter fra flere forskellige tabeller og lave filtre på tabellerne.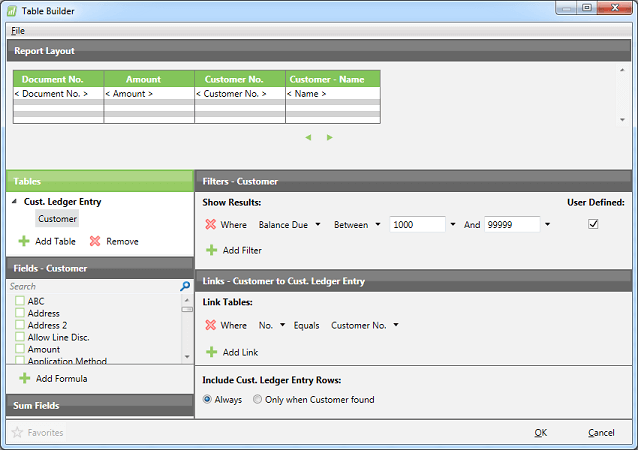 Når du har valgt de felter og tabeller du vil have med i din rapport, så tryk på OK og "kør" i Excel og så har du din Excel tabel.
Den kan du så lave Pivottabeller og grafer med og Jet Reports sørger selv for at opdatere pivottabellerne og graferne hver gang du trykker på "kør".